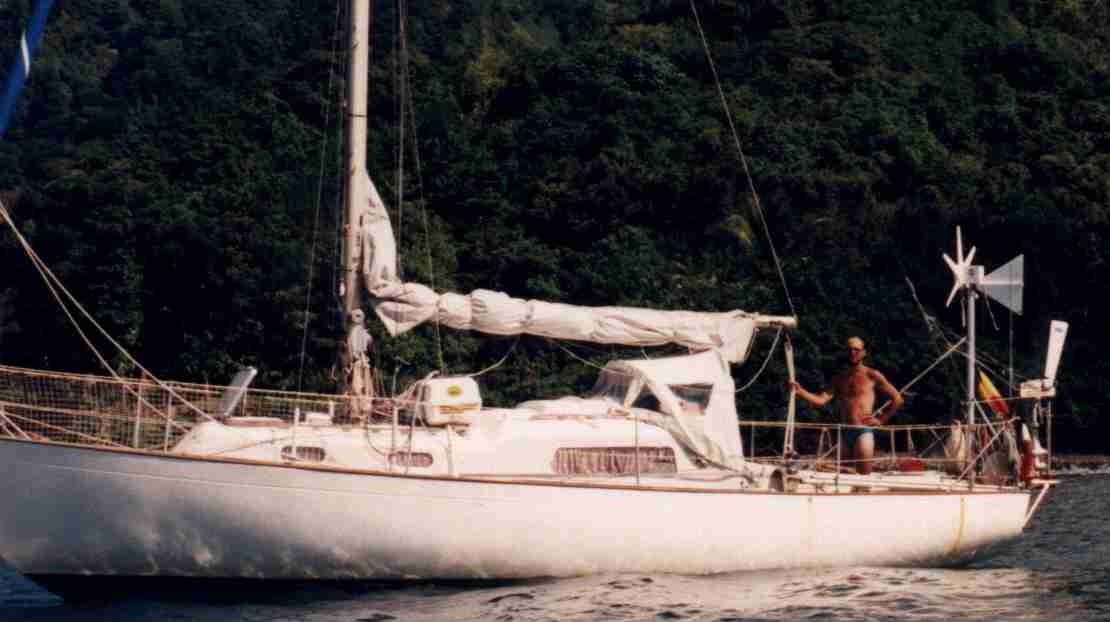 The boat with which I did my prevous voyages is a Westhinder, design Van De Stadt and made by Van Heygen in Boom (Belgium) in 1970. It is 9.4 m long, 2.6 m large and 1.7 m deep. It weights 3.8 tons, empty that is. It is an old design, long, narrow and low, comparable to the Pioneer design of Van De Stadt. It is sloop rigged with furling jib and slab reefed main, a standard rig for cruising. I have a detachable extra forestay for sailing a second jib, the old light genoa, or a storm jib (which I never used). Steering is done with a Navik windvane, or with an Autohelm 800 electronic self steering.
The boat was not "ready" for the Atlantic when I started, it was just in sailing order. I had the money with me to improve whatever I needed to during the voyage. There's enough time on the way to work on the boat,and parts are to be found allmost anywhere on this trip. Important is that the boat is watertight, and that you have enough food to make it to the other side at your speed (whatever that is for practical or safety reasons). Self steering must be working before you leave also. Many things break, but they do bit by bit and you have the time to repair most of it. Just see that or you can mend something, or you have an alternative, or you can cope without.
I had practically no engine on board, just the original 25 years old petrol engine who did only give some 8 hp in the beginning, far less by the end. It was only good to leave and enter harbour when there's not too much wind or current on the head. Autonomy is 80 M, not enough to make electricity during the whole of the trip, that was done with the windmill and the solar panel. After all, I'm sailing. I still do not think an engine is vital for ocean crossing. It is far more here in the North Sea and the Channel.
For the Norwegian trip I changed the engine to a Volvo MD5 14 hp diesel, with the original tri-bladed propeller, which used to be far too big for the petrol engine. It is working fine now.
The rigging was not changed, only the spinakker gear was updated, because this performed well enough on the Atlantic.
The hull was repainted and the underwater part was treated with epoxy to prevent osmosis. The tropics had almost attended the hull! Water-tightning of the hatches was improved.
The HF antenna was revised: earthing is now done directly to the water over the self steering pendulum, and a coil was added for better perfomance on 80 m (3500 Mhz frequency range).
Electronics were rewired completely, I now have 3 separate circuits with a battery each: motor - radio - navlight and cabin. Recharging (by motor, solar panel or windmill) can be done on each separatly.
---
Technical details, as I sold it:
Type: Westhinder
Design: Vande Stadt
Yard: Van Heygen (Boom - Belgium)
L: 9.4 m
B: 2.6m
D: 1.7m
Displ: 3.8 ton
balast: 1.8 ton
Polyester S-frame, built 1970.
---
Hull:
Underwater treated with epoxy (4 layers) in 1997.
Windows replaced with extra thick ones (12 mm), positioned on top
Extra watertightning of motor hatch and aft locker
special sea-doors in companionway
Sprayhood
Rigging:
Sloop rigged
Alu mast with footsteps and fixed firedell radarreflector.
Main in extra heavy cloth, with 3 extra big reefs (1,2 m). Trysail. mainsailhailyard on mast with own winch, reefing lines on mast with owh winch.
Furling jib, second jib hailyard usable as a detachable forestay for the light genua or stormjib. one winch on mast for both hailyards. Self tailing winches in cockpit.
Spi and its gear (boom, up/downhaul, hailyard, sheets)
Motor:
Volvo MD7 - 15 pk diesel inboard with 3 blade fixed propellor, fitted after being completely checked and revised in 1996/97.
Dedicated starting battery
Alternator
Alternative energy:
Windmill (max 150 W, 3 a at 12 V = 36 W with 4 bft)
Solar panel (max 2.5 a at 12 V = 30 W)
Alternative energy supply with safeguard against overloading
Electricity net:
3 batteries: motor - cabin net - radio.
Separate circuits for motor, cabin net and radio.
batteries switchable for loading
Selfsteering gear:
Navik windvane
Navik electronic steering device connected to pendulum of windvane
Autohelm 800 electronic steering gear on tiller.
Navigation:
Sestrel steering compass
Depth sounder Seafarer
Log Nasa Target
SSB world receiver Sony ICF 7600 SW with directional antenna
Vhf
Ready for connecting short wave tranceiver (isolated backstay, antenna earthing on windvane, all wiring.
Three colored halogen toplight, navigation lights on push and pulpits, steam and decklight in mast.
Cabin equipment
Forepeak with two beths
Toiletroom with hanging locker and washbasin
Cabin with sea-berth with fixed stormplank and short sea-berth with stormcloth
Galley with new 2-burner stove, working with propane and butane; washbasin with hand- and foottap, carbonfilter on handtap.
Chart table with seat in foreward direction.
2 pipecods